Heisler to serve as Interim Division Director of Female Pelvic Medicine and Reconstructive Surgery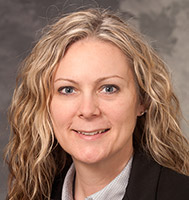 Christine Heisler, MD, MS, associate professor in the Division of Female Pelvic Medicine and Reconstructive Surgery (FPMRS), has agreed to serve as Interim Division Director of FPMRS! She will step into the role on February 1, 2023.
Dr. Heisler joined the department in 2016, developing a distinguished reputation as a leader in clinical care, education, and research over the past several years. Since 2021, she has been the Perioperative Services – Surgery Medical Director at UnityPoint Health-Meriter Hospital. In that role, she serves as the physician expert for the hospital's surgical services, including leading strategic direction for new programs and services, solving problems that affect quality and safety, and otherwise improving physician and patient experiences at UPH-Meriter.
She was instrumental in creating our FPMRS fellowship program in 2018, the first such fellowship in Wisconsin, which she now leads as Fellowship Program Director. Her ongoing research interest in gender equity in medicine led to several peer-reviewed publications and presentations about the topic, including one Best Diversity Paper award at the 2020 Association of Women Surgeons Annual Meeting.
Dr. Heisler has agreed to serve in this role for the next two years and continue the impressive growth in academic and clinical services in the division. This will allow her to lead the transition of outpatient FPMRS services to the Eastpark campus in 2024. Dr. Heisler's academic and leadership experience make her well-qualified to lead the Division of FPMRS during this transition.
This concludes the current open search; the department extends thanks to the search committee for the FPMRS Division Director position and all department members who participated in the search process over the past year, including Dr. Heidi Brown, who served as the interim division director since July 2022.
Please help us congratulate Dr. Heisler as she steps into this new role!