Hutcherson's abstract selected for Wilbert C. Jordan Research Forum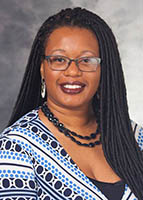 Congratulations to Beverly Hutcherson, graduate student in the Endocrinology and Reproductive Physiology program and mentee of David Abbott, PhD (UW Ob-Gyn Division of Reproductive Sciences), whose abstract "PCOS research models inform biological understanding of developmental origins contributing to maternal morbidities" was selected for a poster presentation during the 2022 Student National Medical Association Annual Medical Education Conference in April!
Hutcherson's poster will be presented during the Wilbert C. Jordan Student Research Forum. Please help us congratulate Beverly on this exciting achievement!