UW SMPH Shapiro research student Hailey Milakovich presents at SGO conference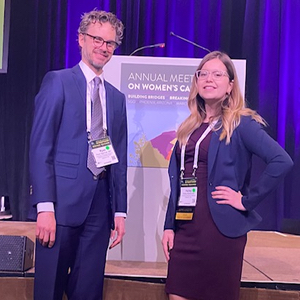 Huge congratulations to UW SMPH phase II medical student Hailey Milakovich, who gave an oral plenary presentation at the 2022 Society of Gynecologic Oncology Annual Meeting on Women's Cancer!
Milakovich presented "What's the Value of a Pelvic Exam? Endometrial Cancer Surveillance in the Era of Telemedicine." The presentation was featured in the SGO Women's Cancer News, a daily briefing on important gynecologic cancer research and updates sent to all members of the SGO.
Ryan Spencer, MD, MS of the UW Ob-Gyn Division of Gynecologic Oncology, was the faculty mentor on this Shapiro Summer Research project.