Zhang to join Division of Gynecologic Oncology faculty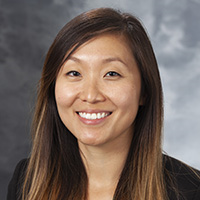 The UW Department of Ob-Gyn Division of Gynecologic Oncology is thrilled to announce that Catherine Zhang, MD, MPH will join the faculty in September 2023!
Dr. Zhang attended the University of Iowa Carver College of Medicine. While in Iowa, she also earned a Master's in public health from the University of Iowa College of Public Health. She completed ob-gyn residency at the University of Minnesota in 2020. Dr. Zhang is currently finishing her third year of gynecologic oncology fellowship in our department.
Dr. Zhang is already a talented researcher, clinician, and educator. Her plenary presentation at the 2022 Society of Gynecologic Oncology annual meeting was chosen as one of the 50 abstracts included in the 2022 SGO Select educational package. Earlier this year, the UW SMPH Department of Medicine's Hospice and Palliative Care fellows selected Dr. Zhang to receive their annual Humanism in Medicine Award, given to a non-palliative care member of the UW SMPH community who most embodies the attributes of compassion, collaboration, and person-centered care.
Before joining our institution, Dr. Zhang earned the Raymond J. Albrecht Award for Excellence in Clinical Care and Resident Teaching and the Leon L. Adcock Award for Medical Student Teaching at the University of Minnesota, as well as the ASCCP Best Scientific Poster Award at the 2019 ASCCP Annual Scientific Meeting.
We are confident Dr. Zhang will be an amazing addition to the Division of Gynecologic Oncology. We look forward to welcoming her to the faculty in 2023!