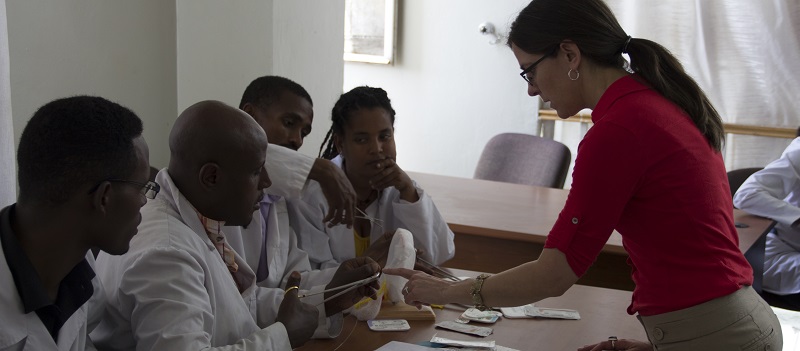 Global Health Residency Track
The University of Wisconsin-Madison Department of Obstetrics and Gynecology is committed to providing relevant skills and training for our residents who are interested in working in low-resource communities locally or abroad. We joined with the UW-Madison Global Health Institute and several other departments in the School of Medicine and Public Health to develop an interdisciplinary global health residency curriculum, to ensure that residents across our system have access to high quality training. Successful applicants to the UW Ob-Gyn Global Health Residency Track will enjoy protected time each year for a week-long curriculum alongside residents from other departments. During their third-year elective time, global health residents will complete a rotation in a global health setting, where they will be mentored and supervised by local and UW Ob-Gyn faculty, giving them an opportunity to put in practice what they've learned over three years of training.
Hawassa University Ob-Gyn Collaboration
UW Ob-Gyn and the Hawassa University Department of Obstetrics and Gynecology (HU Ob-Gyn) began collaborating in 2013, in pursuit of our mutual goal of improving and increasing access to healthcare for women in Southern Ethiopia. To date, the partnership has revolved around curriculum development for ob-gyn residents and medical students at the Hawassa University College of Medicine and Health Sciences, and a UW-Madison Global Health Institute (GHI) seed grant to promote partnership building and faculty/learner exchange between the two departments. Over the past three years, HU Ob-Gyn faculty have visited Madison, WI, and other U.S. locations for professional development, clinical and quality improvement training, and invited presentations. Two of these recent visits were funded by competitive international scholarships from Pfizer/The International Continence Society (ICS) and the Association of Professors of Gynecology and Obstetrics (APGO). Since 2013, UW Ob-Gyn faculty, residents, and researchers have made several visits to Hawassa. Inspired by the growing collaboration between UW and HU departments of Ob-Gyn, Dean Henok Tedele, MD, of the HU College of Medicine and Health Sciences, led a leadership delegation from HU to UW to explore a broader partnership between the two universities, which would span colleges of Medicine, Agriculture, Law, and Engineering. A memorandum of understanding (MOU) was agreed upon by UW-Madison Chancellor Rebecca Blank and Hawassa University leadership, which will allow for broad faculty/learner exchange, as well as research and grant collaboration, between UW-Madison and HU.