Residency - Application Process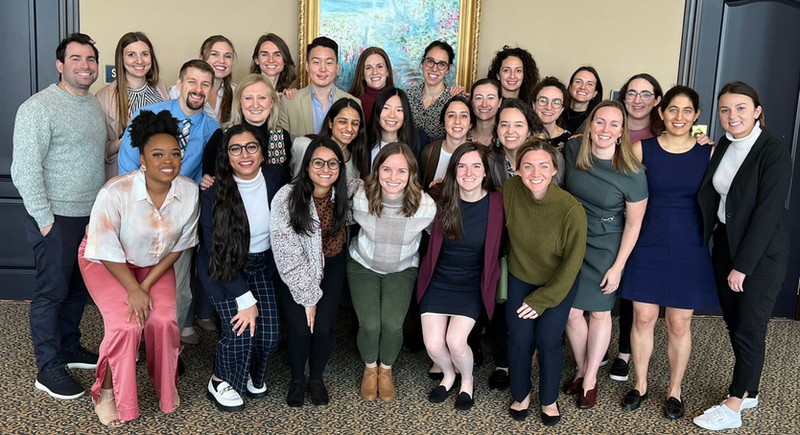 Thank you for your interest in the University of Wisconsin OB-GYN residency program!
Listed below you will find some key information and answers to the most frequently asked questions (FAQ) about our application process.
How to apply
Applications are accepted only through ERAS.
We require passing USMLE Step 1 as an application requirement. Passing both parts of USMLE Step 2 is required to start residency training.

We require at least three letters of recommendation. You can submit up to four letters. Your letter writers should be those who know you the best.

Key information
There are six (6) Main Program PGY1 positions for June 2024.

There is one (1) Rural Track PGY1 position for June 2024.

We sponsor J-1 visas.

Program application dates
Applications should be available for the program to view on ERAS: Saturday, October 1, 2023.

Interview invitations will be sent out on October 24, 2023.

Final interview status notification: December 1, 2023.

Our interview dates for the 2023-2024 recruitment season are as follows:

Thursday, November 9, 2023 (Rural Track)

Thursday, November 16, 2023 (Academic Track)

Thursday, November 30, 2023 (Academic Track)

Thursday, December 7, 2023 (Academic Track)

Thursday, December 14, 2023(Academic Track)
Communication with the Program
We follow the NRMP Match Communication Code of Conduct

Interviews will be entirely virtual, and we will not offer program-sponsored open houses or other such gatherings. This prioritizes equitable experiences for all applicants and augments the diversity of our interview candidates. 


We believe strongly in the ACGME Core Competency of Interpersonal and Communication Skills and we will follow CREOG's recommended standards for interview communication and conduct.

We encourage communication to learn more about our program throughout interview season. This is an important decision. We are here to help you.

Communication is not considered in our ranking. It is only to help you.

We value each person as an individual. You may hear from us throughout the interview process with important updates or items of interest about our program. We will not communicate with you about your position on our Rank Order List.

Please do not send "Thank You" cards. We are grateful to you for interviewing with us and we believe you are grateful to us as well.

Salary and Benefits
Details regarding salary and benefits at the University of Wisconsin are available here from the UW SMPH Graduate Medical Education Office.
Program Videos
Frequently Asked Questions
We asked a few of our current residents (like the ones pictured above): When you were considering the University of Wisconsin-Madison Obstetrics and Gynecology Residency Program, what were some of the burning questions in your mind?
Then we asked them to answer their own questions, based on their experiences thus far in the program. These are their unedited responses. Note: When more than one resident posed a similar question, we provided all answers.
|
I was so proud to be a part of this department during the COVID-19 changes. Everyone sprang into action quickly and our residency schedule was revamped overnight to prepare for illnesses and to ensure adequate coverage for the necessary rotations.
Everyone in the department was so supportive, even though it was overwhelming for everyone in different ways. We now have adapted our continuity clinic and our residency workrooms to allow social distancing while still working as a team, and our department meetings/Grand Rounds are being held via WebEx. We are slowly getting back to in-person teaching in small groups, ensuring that we follow strict social distancing guidelines. Dr. Spencer has been especially wonderful, always looking out for the residents' safety and wellbeing while being transparent about the changes ahead.
Our residency program was very proactive regarding the pandemic and took measures to keep us safe while balancing in hospital and at home work. Overall, we had two-week periods of time while either working in the hospital or working from home that alternated. At work, we were provided with the appropriate safety gear to keep ourselves and patients safe, enacted physical distancing, and had materials to clean our work spaces. If residents were exposed to a known positive patient, they were quarantined and tested. I felt like the appropriate actions were taken and in a timely, proactive manner.
Our program acted quickly to help us get through the initial height of the pandemic safely. Back in March, our administrative chief residents and program leadership worked essentially overnight to rearrange everyone's schedules such that for a month and a half, we were working two weeks on, two weeks off, to minimize the amount of people that were coming and going from the hospitals and also to allow for a reserve in case any of the residents were to get sick and need to be pulled from clinical duties. Every day we continue to work on creative ways to get back to a new normal that includes safety of the healthcare team, excellent patient care, resident and medical student education, and resident wellness.
This was of utmost importance to the residency and the department since it emerged as a possibility that abortion training would become limited in the state of Wisconsin. We have established a working relationship with a site in Chicago to send third years to Illinois for additional family planning and abortion training. Third years now obtain medical licensure for the state of Illinois and spend two months out of the year living in Chicago and working with family planning attendings to learn more complex procedures.

Perspective from resident who has completed the rotation: "I was grateful to our program for proactively setting up a partnership out-of-state to continue to offer our residents a robust family planning experience. I was impressed with how our administration continues to prioritize our well-rounded training, particularly in these uncertain times. Rotating in Chicago has been a great experience to expand my knowledge and skillset in contraception and abortion care. The Family Planning team welcomed me with open arms and has actively supported my learning during my rotation.

The administration makes itself very approachable and actively seeks out feedback. One of the earliest things I remember our chair saying when I started residency was "If there is a problem, I want to know about it and I want to hear ideas from how you want to fix it." I feel comfortable reaching out to the PD, APDs, or admin chiefs about issues ranging from scheduling to rotation policies to programming.
The Thursday didactic curriculum has been completely re-worked over the last few years in response to resident feedback and is better than ever. The 3rd year clinics rotation was developed and tailored to address specific areas where residents wanted additional experience (e.g. ultrasound, Planned Parenthood).
I have found the program to be very responsive to resident feedback! Recent changes that have been made include a midwife present in OB triage to help with extra workload and provide teaching/feedback. Additionally, the formal didactic program has expanded based on resident feedback. We now have a detailed, two-year curriculum in place that incorporates faculty-led didactic sessions, case-based discussions and simulation training.
If you've never lived in the Midwest, the first winter may come as a bit of a chilly surprise, but you'll been in good company bundled up in a warm jacket with a warm drink in hand on the colder days. Madison winters have the benefit of enough snowfall that the season can be fun (e.g. skiing, ice skating, ice fishing, the annual trip to one of our attending's cabin in the north woods) without so much snow that you feel like you are getting buried.
Winter is a beautiful season in Madison. Yes, it can get very cold, but that doesn't happen too often. Most of the winter we have great snow to go snowshoeing or cross country skiing. If not from the Midwest, you will quickly appreciate the crisp, clear-sky mornings of winter in Wisconsin!
It's cold, but there is still plenty to do! You will continue to see people outside enjoying fun winter activities! Just buy a nice, long puffy jacket and you will be all set!
I love Madison! There are so many great outdoor activities in the summer - kayaking on our lakes, excellent bike trails, and Madison's amazing farmer's market. The winter brings ice skating, skiing, and fun weekends snowmobiling at one of our attending's cabin.
Our patients come from all over Wisconsin and neighboring states to seek care. Our patient population is predominantly white (with both urban and rural representation), but Madison also has a sizeable Black (7%), Asian (9%), and Hispanic (7%) population.
Madison, being both a college town and the state capital, has tons of entertainment options year-round, including concerts, festivals, sports (Go Badgers!), and Broadway shows. Madison is home to the largest farmer's market in the country, and it's pretty fantastic. If you enjoy water activities, kayaking and paddleboarding on our many lakes is a must. Biking is also big in Madison, with bike trails throughout the city. If you're a beer and cheese lover, we have great micro and macro breweries and cheese curds galore. One of the great things about Madison is that the city does not shut down during the winter. Even though winters are cold and snowy (we won't deny that), people love staying active. Snowshoe, ice skating, and cross-country ski rentals abound. If you'd rather stay indoors, try cozying up to a fireplace in one of our many delicious coffee shops.
Madison is in a great location to access the outdoors and larger metro areas like Minneapolis, Milwaukee and Chicago. In the summer, exploring state parks, the lakes and the food/beer/coffee scene is a fun way to pass the time. Madison has a diverse population under 40 and a large LGBTQ+ community with lots of local activist groups and communities for support.
There are multiple layers of feedback that residents both give and receive. We have formal feedback from faculty at the end of each rotation. Team rotations also have formal feedback between junior and senior residents. We have informal feedback using MyTipReport (an easy phone app!) that can be requested by residents on surgical cases and "on the fly" feedback using MedHub (another easy phone app!) that can be initiated by faculty on surgical cases, medical management, notes, and general feedback. In addition to all of this, we also have a semi-annual review with our Program Director to review our progress and address any concerns.
Residents provide feedback to one another following cases, at the ends of team rotations and on a day-to-day basis in a way that is productive to learning and advancement. Feedback is elicited by junior and senior residents alike and designed for improvement; residents respond positively and build on their relationships with one another through structured feedback.
One of the best parts of the UW Madison OBGYN residency program is the partner support. To help facilitate relationship building among resident partners, the beginning of the year includes a few opportunities to get together and socialize, including a BBQ, a graduation ceremony/dinner, and a toast party. New partners are invited to join a group chat with existing resident partners, and this chat is used throughout the year to organize more fun meet ups. As a partner myself, spending time with older OBGYN resident partners has been fun and meaningful, as they provide advice, tips, and tricks for supporting your partner and yourself through various years of the program. As the partners often have more free time than the OBGYN residents, they make sure to take advantage of this and enjoy running, brunching, and biking around Madison! Some of my closest friends in Madison are partners of residents.

Our program is always evolving to meet the requests of residents. We are currently remodeling our rotations to adjust services with changing caseloads, to optimally distribute cases and workloads, and to allow for the most opportunities. The first-year clinics rotation now includes an early pregnancy clinic and we have made the gynecology and oncology teams more robust for case coverage as our surgical numbers climb. In the wake of the Dobbs decision, we also added an away rotation in Chicago in the 3rd year for full family planning training.

There are a lot of opportunities for advocacy, with the Capitol right down the street. This includes testifying, lobbying, and meeting with legislators. Residents also participate in Doctor's Day on the Hill where we go to the Capitol and talk with local politicians about causes in women's health that are important to our residency. Finally, there are opportunities for advocacy through medical society participation including ACOG, AMA, and the Wisconsin Medical Society.
There is a good variety of residents who rent apartments, rent houses, or buy their homes. Because this is a college town, the rent is slightly more expensive than I originally expected but the hospitals are just far away enough from campus that you can find a very nice quiet affordable home easily. A lot of residents live close enough that they can walk/bike to work. Plus, you are always a quick walk or drive away from a park or lake no matter where you decide to live! Aside from housing, Madison (including nice restaurants/bars downtown) is very affordable. (As hospital employees we get free boat rentals! Perfect for a summer day off.)
There are residents who buy and rent and both are feasible around Madison. Traffic in Madison isn't bad at all so its easy to have a house in a surrounding suburb and commute in. Rent in Madison is less than may big cities and it is not difficult to live in an apartment in the city without roommates on your resident salary.
Residents both buy and rent. Cost of living, both renting and buying, is very affordable (especially compared to larger surrounding cities such as Chicago). There are opportunities to rent an apartment in the heart of downtown or buy a house 15 minutes away with a yard depending on your desires.
The residency is split into two major groups. The majority (60-75%) rent, while the remainder own their homes. The cost of living is lower than for any major city, but slightly steep for the Midwest for any city outside of Chicago. Expect to pay $1200-1800 for a nice single apartment or $2000-2600 with a second person. The cost of living overall is very reasonable compared to our salaries.
Every day I am more thankful to be training here at UW and for having the chance to learn/work/laugh alongside my co-residents. Our training is strong because: 1) our input matters and Dr. Spencer takes all suggestions/feedback seriously, 2) there is a culture of kindness among the entire department and our attendings serve as excellent role models clinically and surgically, and 3) our residency community comprises a diverse group of smart, motivated, and genuinely kind people who have supported me and helped me grow as an OB-GYN.
Residents here would describe themselves as close-knit and supportive of one another. They work hard, work closely together and are very dedicated to providing the best care for their patients. The faculty are approachable, patient, and mindful about providing excellent teaching.
UW has a really structured and robust research curriculum. The faculty frequently check in to make sure we are following the schedule correctly. Outside of our required research activity, it's very easy to get involved in projects, given that our subspecialty attendings are very productive and always have something going on. They also frequently have research ideas (if you don't have one yourself) that they are looking for someone to champion.
There is an annual research presentation where attendings talk about available projects for us to get in on. We also have fellows who are engaged in research all the time and would love help from residents. The OB-GYN research office is always available to help with fleshing out your ideas, getting you connected with the right people, and helping out with your statistics. It is easy for us to get our projects funded, conference costs covered, and workdays excused if all done ahead of time.
Early in intern year, many potential research projects in every subspecialty area that have been vetted for feasibility are presented. The interns have the opportunity to review the projects and contact mentors of projects that pique their particular interests, or they can be connected to faculty in specific fields if they have another idea or particular interest. Throughout residency, there are regular check-ins with various mentors to support residents at every step of their research project, culminating in a resident research presentation day in our fourth year.
The percentage varies year-to-year, but overall about a quarter to a third. We have a mentorship program in place that pairs you with a pre-assigned official mentor you intern year (but you can obviously have as many unofficial mentors as you want). You pick an official mentor at the end of your first year who often has experience in whatever career path you are pursuing, but you can keep your original mentor if you want.
On average, 1-3 residents pursue fellowship each year. As part of your orientation upon starting here, residents fill out a form with personal and career interests, goals, questions, and concerns. This information gets used to help select a faculty and resident mentor, who you meet with throughout your residency. Beyond formalized mentorship, the faculty at UW and through the private groups are all very supportive and interested in providing guidance.
I love the culture of the residency here. It's an incredibly supportive environment—especially between residents, and between residents and faculty. We have CNMs working though UW who precept us in triage and sometimes help with deliveries, too.
I feel that our program is extremely collaborative, both within our residency community and with the other members of our healthcare team. The residency has become like a family away from home for me, helping to support me through hard times and celebrating successes. The way that our group has molded into a tight-knit support system extends into our work, too, where we work well together sharing roles, filling in where needed, and working to make a team function, even on our busiest of days. On L&D, there are frequent conversations between our resident team and nurses, midwives, and family medicine residents and staff. The set up of our team room on L&D helps to make us accessible for questions, curbsides, or consults, working to collaborate interprofessionally to provide the best care possible for our patients.
Your level of continuity with patients in the resident clinic is dependent upon your attempts at ensuring ongoing continuity. Given our rotation-based schedule changes, alternating between day and night shifts, we have frequent blocks of time where we do not have clinic days. For that reason, in cases of short interval follow up, patients may see more than one resident to get them the care they need in an efficient matter. You are also able to request ongoing follow-up with you as the patients exit via the checkout desk. In regard to surgeries, many rotations offer flexibility for you to be able to cover your own patients' surgeries (especially major surgeries), and some of that control comes back to you and your patient working to select a time frame where you would be available.

Residency Program Manager