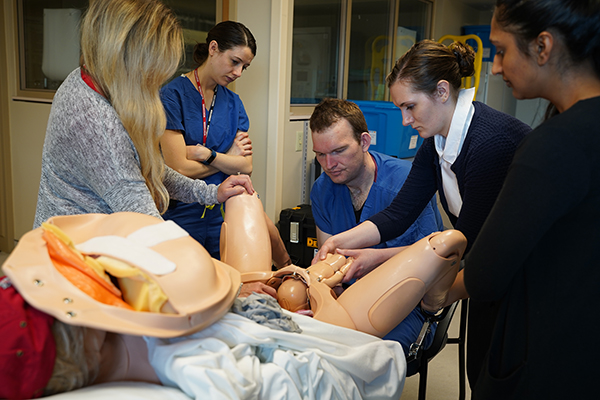 Cultivating the next generation of women's health leaders is a commitment we fully embrace. As a department, we provide an outstanding and comprehensive educational experience, motivating medical students, graduate students, residents, fellows, faculty and community members to be lifelong learners in women's health.
Medical students at the UW School of Medicine and Public Health work with our faculty and residents to get an introduction to obstetrics and gynecology practice during Phase II and Phase III of their med school curriculum. Our medical student rotation is ranked as a favorite, and our residents and faculty often receive teaching awards, as voted by the medical students.
The UW Ob-Gyn residency provides a comprehensive, creative and caring training environment. We offer exceptional surgical volume, extensive subspecialty rotations, and an integrated research program. Our residents are some of the best in the country, and they leave our program prepared for successful careers in academic medicine, private practice, and subspecialty fellowship training.
Hundreds of applicants from around the country vie for spots in our competitive fellowship programs. We offer ACGME/ABOG-accredited fellowship training in gynecologic oncology and maternal-fetal medicine. In 2020, we will launch the first Female Pelvic Medicine and Reconstructive Surgery fellowship in Wisconsin.
The Health Disparities Research Scholars Program is an interdisciplinary post-doctoral training program that supports the training of scholars from diverse fields to become interdisciplinary researchers with a focus on health among minority populations, particularly maternal/child, adolescent, and family health.
We are proud to offer training opportunities for scientists in areas like reproductive biology and physiology, maternal health, and fetal health at the level of intrauterine programming, and the adult endocrine diseases to which they relate (hypertension, obesity, diabetes). Trainees in the Endocrinology and Reproductive Physiology program join a strong, vibrant training environment led by faculty from across UW-Madison.
Education Program Manager